Corporate:
INTERNATIONAL LONGSHOREMEN'S ASSOCIATION HEADQUARTER'S
Location
Newark, NJ

Client
International Longshoremen's Association

Facility
Corporate Offices & Meeting Facility

Size
22,500 SF / 2,090 m2

Status
Construction Documentation completed

Scope
Architecture / Interior Design / Landscape Architecture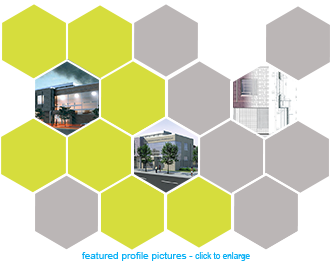 This new headquarters for the International Longshoremen's Association (ILA) is located on a recently "cleaned" infill lot in Newark NJ as part of a revitalization of the surrounding neighborhood. This iconic building fits within the context while setting it apart as an identifiable structure for the ILA. The building mass is elongated along Elizabeth Avenue to help activate the street and surrounding community.
Programmatically the building is set up with public and private zones. Meeting rooms and banquette facilities at the lower level and ground floor, while the corporate offices reside on the second floor. These corporate offices are housed in an iconic box that represents the ILA's main business of loading and unloading of container boxes at various ports throughout the globe. The ground floor opens up towards the street with a large banquette hall used for union meetings as well as offered for community functions. Parking and services are kept hidden at the rear of the building and a small pocket park is to one side for union members to socialize during good weather.