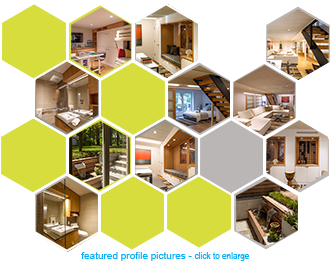 This basement transformation into a lower level living space encompasses a new great room (for movie night, family celebrations and game night,) a mini kitchen (so no one needs to miss any excitement for a snack) and an open stair from the main living area above. To bring daylight into the lower level, which is primarily below grade, a six foot exterior sliding glass door looking out into a tranquil sunken courtyard with water feature was incorporated within view of the study/guest room .Another feature is a sliding partition separating the great room and study / guest room. This nine foot long sliding partition is designed to allow daylight to pass through even in its closed position and expanding the great room when needed in the open position
A separate space was created for art projects, playing Wi, wheeling in the ping pong table (stored in an adjacent closet) and children's sleep overs, was incorporated into the plan. A wall of four Murphy bunk beds that fold down for girls' night in after all the fun and games were had is also part of this creative environment. The space is fitted out with plenty of storage, sink, white board, chalk board and tack space for the next Picasso.
Finishes are clean, crisp, sustainable and warm. Walls and ceilings are a warm white to keep things bright, and an unexpected ceiling inlay of a perforated corrugated metal, provide access to utilities above create visual interest and scale . Millwork is a combination of painted and Natural Beech for an abundance of storage in the new spaces. To complement the Beech, sustainable cork was selected for the flooring with a striped inlay carpet at the great room follows the linear theme of the ceiling. All LED lighting is carefully laid out with recessed down lights, wall washers, wall grazers, puck lights and even step lights for floor illumination. For furnishings, the center of attraction is a modern leather sectional to set the tone for the space and sculptural side chair. To keep things fresh, a table of raw steel and glass with bench and chair seating of leather and steel round out the space for family functions.